South Dakota Hunting Blog
Bison and Prairie Dogs
---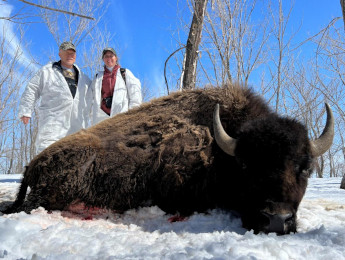 This is what it's all about, isn't it? The four F's... Fantastic fun, family, firearms, and a full freezer. A fantastic stalk with father/daughter John and Tara finishing with great shooting. John had a shooting hole the size of a plum to connect on this beautiful MEAT BULL. It took 8 perfect shots to seal the deal. When you hear outfits brag about one-shot kills, they aren't hunting them on big country like we do! It took us over 25 minutes to sneak the last 80 yards to get the shot. Ask John and Tara how exciting it was. AWESOME.
Supper time...
Eating a fantastic meal instead of boring food is a matter of using a little talent and being willing to do it. It doesn't cost any extra for an outfitter to feed you great instead of so-so. You don't pay extra for fantastic food. You are booking a hunt for a spectacular hunting experience. I care enough to feed you like a champion while you enjoy the trip. Grilled ribeye, roasted acorn squash, musrooms and sweet peppers, garden potato salad, Polski peas salad, a glass of red, and Czechoslovakian kuchen for desert.
Jim River Guide Service is the place to go to get The Ultimate Guided Experience. Just ask Tara and John.
"I wasn't expecting this type of experience at all. This has been the most exciting hunt I've ever gone on. Tell people that when you say they are tough, you mean it. I couldn't believe it took that much lead. This has been a fabulous experience." John, WI
I can't tell you how many people show up thinking they are going to come out here and get the kind of buffalo hunt they've heard about since they were a kid...walk out and shoot one in a feedlot or drive out into a pasture and plink one out the window. Or worse yet, apply for years in a government park only to find out when they get there that the animal they are going to shoot was just eating a ham sandwich somebody from Timbuktu fed it out the window of the family SUV. Yuk.
Book a hunt with me and you will get a much more thrilling and authentic experience. That is why I so eagerly provide the names and numbers of ALL of my clients from the previous year so you can check it out for yourself. My competitors won't do that for you. That tells you everything you need to know.
John and Tara enjoyed a spectacular trip. It doesn't get said enough, "Nobody ever says, I wish I wouldn't have spent as much time hunting with my kid." Spend some of that moldy cash and savor some spectacular family time. If you go to the grave with that money in the bank, your kids are just going to piss it away on something foolish. Booking a hunt with me means at least part of that money is going to be spent wisely.
Contact me for a spectacular prairie dog hunt. Or if you want a bison hunt that is one you will remember fondly for the rest of your life. If you already have a prairie dog hunt booked for this year, ask me if you can add a bison to the trip and take back a freezer full of meat. You will be the talk of the town.
*It seems to be getting harder and harder to communicate by email. Email servers seem to filter more aggressively nowadays if the message contains words like gunpowder, hunting, shooting, or fun. That is particularly the case if you have an @yahoo, @hotmail, or @aol email address. (I'm not picking on you if you do!) If you email me and don't receive a response within 24 hours, email me again and include your texting/phone number. I will definitely respond. I hate to lose business because of a lack of communication!
Contact Information
Please call or
e-mail
me with any questions or to get a list of ALL my clients from last year.
Jim River Guide Service
Willie Dvorak
432 Railway Avenue
Mellette, SD 57461

Text or phone: 605-228-8162
E-mail