South Dakota Hunting Blog
Buffalo Hunting in South Dakota - Nothing Like It
---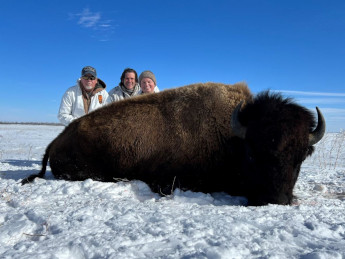 Nate and Jeff came out to hunt a Meat Bull to fill the freezer. They have a great story to tell and I have two new customers that are great companions in the field! Great job guys.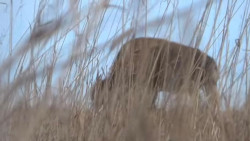 This is what you should expect...
Buffalo hunts with JRGS are fantastic. Here is a screenshot of a JRGS bison hunt. We had to belly crawled into the kill zone on this Trophy Bull. If he would have seen us, he would have stampeded off. We usually don't have to belly crawl. But in order to get to a reasonable distance, it is imperative that we not be noticed by these buffalo. If you want an incredible experience hunting bison, choosing JRGS is the right choice. Talk to any or ALL of my past clients!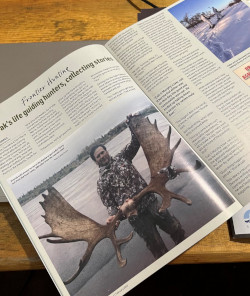 Progress Magazine
Phil Torres wrote a very flattering feature article about my business guiding hunters in Alaska and South Dakota. It has a lot of nice quotes and pics from hunters who have hunted 10-20 times with me. I am proud when my hunters and media people acknowledge excellence. Thanks Phil.
Jim River Guide Service proves it's the place to go to for the most authentic American bison hunt. Enjoy The Ultimate Guided Experience.
Every year I get the privilege of guiding and outfitting hunters from around the world as they seek the best hunting opportunities. They trust me to help them better their legacy with some fantastic memories, experiences and animals on the wall. I am proud of that.
Each year I meet new customers that become lifelong pals and reacquaint with hunters who've hunted with me many times. I get to enjoy some of the best companions in the field. It makes it easy to get up, pull my boots on and face Mother Nature every day.
This is my 25th year in business. Last year I was personally guiding hunters for over 270 days. That's a lot. There might be somebody that guided more, but I don't know of anyone. You do the math. I have a lot more experience than someone who has guided 25 years but only 20-30 days/year!
I know what hunters want. I have the experience, expertise, hustle, hunting areas, and relationships with service providers, and skills necessary to provide you with an experience you will remember in high acclaim for the rest of your life. Don't risk going with the second-best. Get the most for your money and time by calling, texting or emailing me.
"We've hunted unguided moose with you three times now and each time has been a great experience. You've delivered everything you said and did it the right way." Scott, MO
My communication is exceptional. Except when I am in the Alaska bush in most of August and September, I return phone calls, text and emails quickly 100% of the time. Communicate by text, email or phone call. I don't want to lose a chance at your business due to lack of communication.
If I received an email from you, I guarantee I've responded....But I can't guarantee you received my response. If you have emailed me and have not received an answer, your email server is filtering my responses back to you into your spam or junk mail folder. If you email me and don't get a response by email within 24 yours, call or text me immediately! If you don't know how to check for the messages there, don't feel like the Lone Ranger. Instead, just call me or text me and I'll get the information you are seeking to you some other way.
Contact Information
Please call or
e-mail
me with any questions or to get a list of ALL my clients from last year.
Jim River Guide Service
Willie Dvorak
432 Railway Avenue
Mellette, SD 57461

Text or phone: 605-228-8162
E-mail