South Dakota Hunting Blog
Trophy Buffalo (Bison) Hunting
---
Usually these massive beasts take several shots to drop them...
Corey dropped this SUPER TROPHY BULL with one shot...first one-shot kill in THREE years.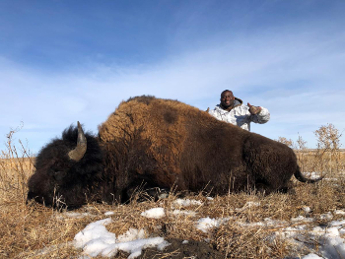 My phone has been ringing off the hook with guys wanting to get on the schedule for the next fall/winter buffalo season. So I figured I should announce the Buffalo Shooter Award for last season. First time JRGS client Corey wins it hands down. He got the first one-shot-one-kill on a SUPER TROPHY BULL in three years. That is a big deal. Excellent shot Corey!
"It was exciting. But I just did what Willie told me to. When it came time to shoot, I just put it right where he told me to and BOOM, down he went." Corey, CA
Corey came in without a lot of hunting experience. Sometimes that's a good thing. Because of that, he aggressively listened to every word I said...and the proof is in the pork...ONE-SHOT-ONE-KILL! You did a FANTASTIC job Corey. The purple ribbon for shooting goes to Corey.
"If you'd like to take your try at buffalo hunting, you won't find a better, true to life experience anywhere."
I'm proud of that.
SUPER TROPHY BULLS are huge!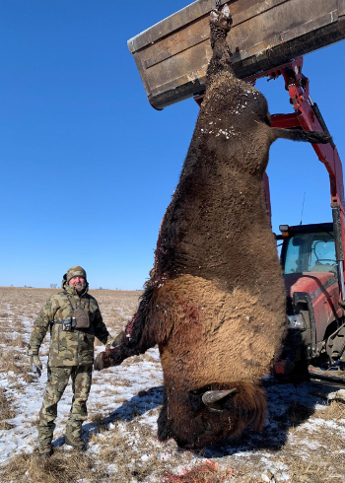 ...Usually it takes a lot more shots than one. Just ask Mike. Mike killed this freakishly huge monster on a cold -30 degree day. It took FIFTEEN good shots from his 375 H&H for this huge SUPER TROPHY BULL to give up the ghost. Mike has hunted about everything across the globe and said, "I've never seen anything like this. I had no idea how tough these things were. You weren't kidding when you said they could take a lot of lead." Look how big it is!
Sometimes guys come buffalo hunting with me and take it a little too lightly. I'll get you in the kill zone...then it's up to you. I've killed over 500 bison, and it is still ALWAYS thrilling! Taking it casually might be OK if you're hunting one of those other places where they are one-shot shooting them in a small pen. This is a different kind of an experience. These are BIG animals on BIG country...You won't feel like you are shooting them out of a pen when you come hunting with JRGS. These big bulls NEVER fail to thrill the hunter. There's a lot of reasons I provide the names of ALL of my past clients when hunters ask for a reference list while other outfitters cherry-pick the names of guys they want you to talk to. If you want the real-deal bison hunting experience CALL ME TODAY.
NEW customers booking hunts this week:
>Andy booked a 2 Trophy Buffalo hunt.
>Paul booked his Trophy buffalo hunt.
IMPACT SHOTS: Check out these short over-the-shoulder buffalo hunting clips...if you think you might ever hunt bison, they are worth watching!
338 Lapua Buffalo Hunting Bison
Bison Buffalo Hunting South Dakota 338
Lucretia Borgia Buffalo Bill Hunting Rifle
Angie Hunting Super Trophy Buffalo
Merlin's Meat Bull Buffalo Hunt
Call me if you'd like to hunt prairie dogs as you research my outfit if you're consider doing a buffalo hunt. Or book your buffalo hunt if you are considering booking your Alaska hunt with me...there is no better way to research an outfitter than to go hunting with him. You'll quickly see why so many of my clients are repeat customers. I offer hunts for prairie dogs in South Dakota up to brown bears in Alaska. So once you have the courage to hunt with me the first time, you'll likely be coming back for more.
---
Contact Information
Please call or
e-mail
me with any questions or to get a list of ALL my clients from last year.
Jim River Guide Service
Willie Dvorak
432 Railway Avenue
Mellette, SD 57461

Text or phone: 605-228-8162
E-mail