South Dakota Hunting Blog
Fort Pierre Hunting
---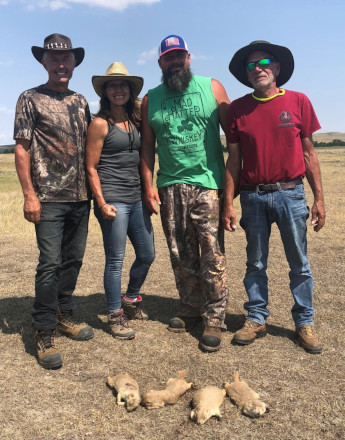 Fort Pierre, South Dakota The Prairie Dog Hunting Capital of the World!
Team NY...
...Wendy lead the team for the long shot on day one with her confirmed kill at 515 yards. Gary topped off the group with 626 yards. Paul was the short range specialist and Matt found a dog DRT at 511 yards. This group had fantastic attitudes and were fun to have as first time clients. I hope they come back.
Featured in Petersen's Hunting again...
Check out my article "Picking the Right Outfitter" in the August 2021 issue of Petersen's Hunting page 57. There's a lot of do's and don'ts to save you money, time and heartache on your next hunt. Avoid beginner mistakes. It's pointers the best seasoned hunters use.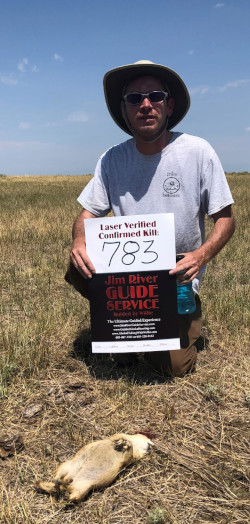 Gary came back and broke his PR...
...He broke his all time PR with this dead dog confirmed with a laser range finder at 783 yards with his 223. That is awesome. You can count on Gary to show up with a smile on his face and bearing gifts. He always brings some locally made stuff when he shows up. I always look forward to seeing him return. Awesome shooting again this year Gary.
Fort Pierre, The Prairie Dog Hunting Capital of the World!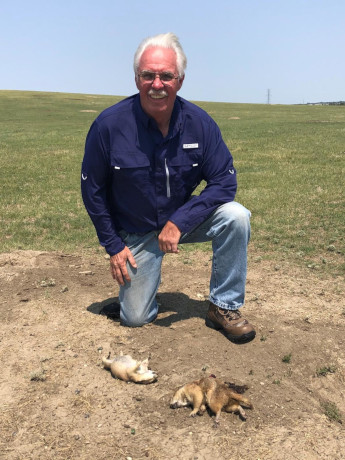 Jim from AR...
..."I've been following you for years. I kept wondering if you were everything I heard you were. I have to admit I was skeptical. After I got out here and met you, I realized everything your hunters say about you is true. This has been everything you said it would be. I've had a blast and I can't wait to come back and try coyotes." I can't wait to have you back as a return client Jim. Thanks for the nice words.
Jim River Guide Service - If you've never hunted with me, you probably want to talk to some guys that have personally been guided by me. That makes sense. I'll do you one better...I'll give you the names of ALL of my clients I personally guided last year and you can talk to as many as it takes until you get that warm fuzzy feeling about doing business with me. Just email me and ask.
It's nice to know you are being guided by the owner of the business and not just the hired man. Anybody that owns your own business knows how important that is. I am proud of the fact I can send out a list of ALL of my customers instead of having to rely on BSing you with a hand-picked list of past clients like my competitors provide you with. That's a big deal.
"It doesn't matter whether you are booking a South Dakota bison hunt, a prairie dog hunt or an Alaska brown bear hunt. Willie will personally guide you and you should expect to have an outstanding time. His professionalism, honesty, hustle and enthusiasm settles him right to the top of all the guides I've ever used." Tony, TX
Text or phone 605-228-8162 me today.
---
Contact Information
Please call or
e-mail
me with any questions or to get a list of ALL my clients from last year.
Jim River Guide Service
Willie Dvorak
432 Railway Avenue
Mellette, SD 57461

Text or phone: 605-228-8162
E-mail