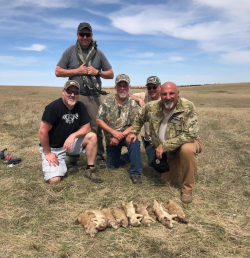 I have land spread out over 100 miles for prairie dogs and 200 miles for coyote hunting in the James River Valley of South Dakota. That is a major difference compared to everybody else in the coyote or prairie dog hunting business. It doesn't make me perfect, but it helps make me the best. I can live with that...can you? When you arrive, expect that I will have the scouting reports in and we'll be targeting the areas that offer the best chance for your success.
Special thanks...to 85 year old Bob for booking his next ARCHERY BOW HUNTING MULE DEER hunt with me. I think I speak for all of us when I say we all hope to be "gettin' after it" when we are 85! Watch for Bob's results next fall.
Text or phone me at 605-228-8162 if you have some free dates on your calendar to go prairie dog hunting. You'll be the envy of all your buddies. Specifically call me if you are a single shooter or a pair of shooters and don't mind hunting with a small group. If you have some flexibility in your schedule, I can fit you in! You'll be glad you did.
---
Contact Information
Please call or e-mail me with any questions or to get a list of ALL my clients from last year.
Jim River Guide Service
Willie Dvorak
432 Railway Avenue
Mellette, SD 57461

Text or phone: 605-228-8162
E-mail