South Dakota Hunting Blog
Military Veteran Hunting Trips
---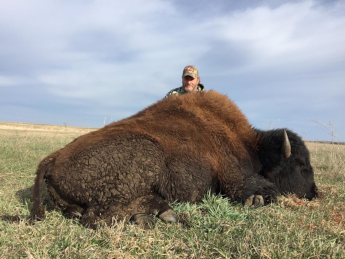 My best high school friend Rich - Green Beret veteran of several wars shot this MEAT BULL.
How you celebrate...
...isn't as important as WHY we celebrate it. We celebrate our fallen heroes in our own special ways. Because of our fallen heroes, we still have the best country in the world in spite of the horrible politicians in Washington.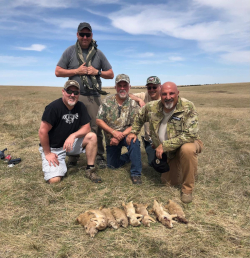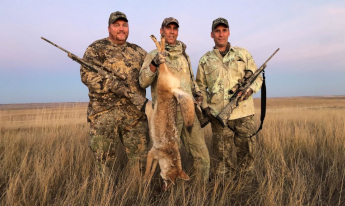 Army buddies..
...Bulldog with his military buddies were recently out here have a fantastic time on the prairie. THANKS FOR YOUR SERVICE. If it weren't for people like you, we'd be living in a totally different country.
Jim River Guide Service celebrates Memorial Day hunting and fishing. We thank all of our service men and women in the military. THANK YOU! Exercising our Second Amendment rights is as good of a way to remember our fallen heroes as there is.
"CUMPULSORY MILITARY SERVICE would be great for our young people. Just like mandatory drug testing, it would be even better for our politicians!" Willie, JRGS
We are blasting the heck out of the prairie dogs this time of year. It's nice to see the ammo is more readily available. Don't hold back. If you want the best prairie dog hunting action in world, with the lowest chance to get rained out, give me a call and we'll get you signed up. It is fun-o-plenty. If you are a single shooter or one of a pair of shooters, I am sure we can get you fit into my schedule. Don't let everybody else have all the fun. If this sounds like you, call or email me today.
Check out the size of the MEAT BULL Rich shot (pic above). THANKS FOR YOUR SERVICE RICH!
Talk HUNTING at your cook-out...See who has the courage to go on an adventure of a lifetime and who doesn't.
If you've never hunted with me yet, CALL me today and see what you've been missing.
Text or phone me at 605-228-8162 today.
---
Contact Information
Please call or
e-mail
me with any questions or to get a list of ALL my clients from last year.
Jim River Guide Service
Willie Dvorak
432 Railway Avenue
Mellette, SD 57461

Text or phone: 605-228-8162
E-mail