South Dakota Hunting Blog
Coyote & Prairie Dog Hunting
---
Repeat client Ardie is ALWAYS good for plenty of laughs...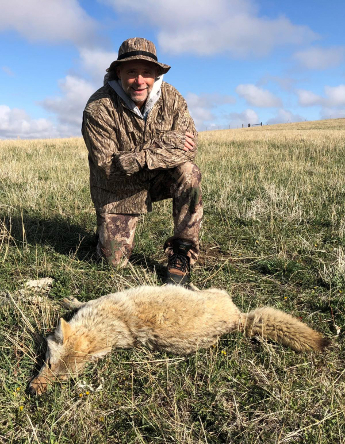 We got a good close look at a lot of coyotes during the two day hunt. We had a blast!
Prairie Dogs are out and about...
...and we took advantage of it. You guys that have your prairie dog hunts booked better be ready for a LOT of shooting. If you don't have your prairie dog hunt in South Dakota scheduled...what in the heck are you waiting for!?!?!?!?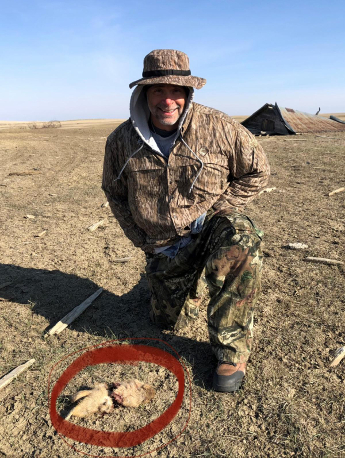 Jim River Guide Service gets as many, OR MORE repeat clients than anybody in the business. I am proud of that. And when I get guys like Ardie it makes my job easy. He has a fantastic attitude, a brilliant sense of humor, he's a crack shot, tells great stories, and keeps coming back for more hunting...and he has a love for adventure. What more can a guide want in a client! I am fortunate to keep a calendar full of great hunters every year. I am blessed in a big way!
I work hard to keep customers coming back. If you own your own business, you know exactly what I'm talking about. I do it by over delivering on promises made. That is why I am so eager to send you the names of ALL of my clients from last year instead of the hand-selected names you get from my competition. When you call my past clients, I have the confidence they are going to tell you that it would be foolish to go anywhere else. That's important! You want to hunt with somebody that has the same kind of awesome integrity that you treat YOUR customers with. I treat everybody the same. If that is good enough for you, expect to have the time of your life when you get out here.
"I saw them coming over the hill and I didn't have time to get nervous. I just put it right on his heart and I knew when I pulled the trigger that he was going down. Thanks for another great time. I'll be calling you to set up that pheasant hunt for this fall." Ardie
I have land spread out over 100 miles for prairie dogs and 200 miles for coyote hunting in the James River Valley of South Dakota. That is a major difference compared to everybody else in the coyote or prairie dog hunting business. It doesn't make me perfect, but it helps make me the best. I can live with that...can you? When you arrive, expect that I will have the scouting reports in and we'll be targeting the areas that offer the best chance for your success.
IMPACT SHOTS: Check out the video link to the highlights from Ardie's trip:
(2) JRGS Coyotes, Prairie Dogs and Prairie Chickens Drumming
Contact me today if you have caught yourself without a spring/summer prairie dog hunt planned. When you get home, you will be bragging to your pals who didn't have the courage to head west to have a thrilling experience shooting prairie dogs until their eyes go blurry from looking through their scopes. Believe me, that a good feeling! Email me and I'll tell you the dates that are still open.
---
Contact Information
Please call or
e-mail
me with any questions or to get a list of ALL my clients from last year.
Jim River Guide Service
Willie Dvorak
432 Railway Avenue
Mellette, SD 57461

Text or phone: 605-228-8162
E-mail