South Dakota Hunting Blog
Shortest Prairie Dog Shot - Ever
---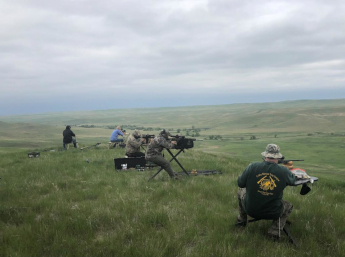 I was able to dodge the rain to keep my hunters shooting again, and it was AWESOME FUN.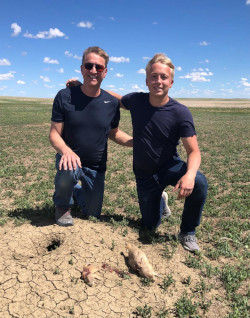 Father/son...
...Nobody in the history of the world has ever said, "I wish I would have spent LESS time hunting with my dad/son." Mark and Brennan enjoyed a week of South Dakota father/son time. Contact me to set up a time to take your dad/son hunting. Your schedule won't be less hectic and your cost will never be lower...go hunting now.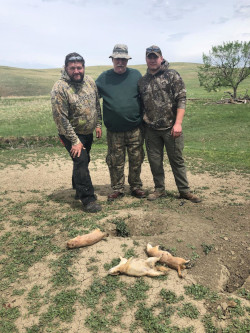 Uncle Tom...
...Tom set up a great trip for nephew/son Diego and Nick. They've hunted here before and I look forward to them coming next year. You can count on these hard working business owners to have a great time with plenty of laughs. They work hard so they can play hard! Nick scored the shortest kill in JRGS history.
My man Nick scored the shortest prairie dog kill in Jim River Guide Service history. Nick and his dad Diego took well deserved time from their business in WI to come out with their Uncle Tom to enjoy The Ultimate Guided Experience. While the first day provided fantastic shooting opportunities early in the day, as afternoon rolled in the winds picked up. We did our walk-about after we were done shooting and Nick noticed a prairie dog doing his thing with his back to Nick...big mistake for the prairie dog. The heavy wind covered Nick's approach. He was able to sneak up and stab it ninja-style for the shortest kill my hunters have ever recorded. After guiding over 1,500 prairie dog hunters and over 1,500 days of prairie dog hunting under my belt, this is the first time we've done that!
Check out the video clip: Prairie Dog Hunting - YouTube
These are the kinds of experiences you can enjoy IF YOU GO HUNTING. If you stay home, you miss out on a lot of fun experiences. It is amazing how many people stay home and for what reasons. At some time, if we're lucky, we are going to look back on our lives and ask if we made the right choices. It's easy to stay home. It is fun as hell to GO HUNTING.
I'm in the FUN business. My hunters are all part of the FUN group. Are you?
"We go on trips like this every year because we don't know how long we will be around. We see too many of our friends that stay home for whatever reason missing out. We figure when our day comes, we're not going to WISH we would have done the fun stuff. We're gonna have done it." Bruce, NY
I can't tell you how many guys have come on thier first hunt with me and had a blast...they say they are going to start going on these excursions EVERY YEAR FROM NOW ON...so they book another hunt with me...and then I get a call from their wife that off-season to say they passed away. That is sad. I AM IN THE FUN BUSINESS. Quit worrying. If you've taught your kids how to work, you've done everything you need for them. Pick an awesome outfitter and just go. You won't regret it.
Ammunition is starting to become more and more available. There is still time to sneak a prairie dog hunt in this summer! You just have to plan one day to get here, a couple days for me to burn you out shooting, and a day to get home. Four days and you will have FUN.
If you've hunted with me before, you know who you should call for your next great adventure...call me today and let's set up something fantastic.
This Week these guys pulled the trigger by booking:
>Gary booked a trip for two prairie dogging
>David booked a trip for one prairie dogging
>Brandon booked his prairie dog trip for one
>Josh signed up for his Super Trophy Bull Buffalo hunt
>Greg committed to his Trophy Bull Buffalo trip
They are all going to have a brilliant time hunting. Count on it.
Contact me to see if we can get your schedule to match up with mine. If we try, I bet we can make it work. If you've never hunted with me before, start out by asking for a list of ALL of my customers from last year. I eagerly hand it out because it proves my high level of integrity. There is great value in working with a person with excellent integrity.
---
Contact Information
Please call or
e-mail
me with any questions or to get a list of ALL my clients from last year.
Jim River Guide Service
Willie Dvorak
432 Railway Avenue
Mellette, SD 57461

Text or phone: 605-228-8162
E-mail