South Dakota Hunting Blog
South Dakota Bison Hunting Adventure
---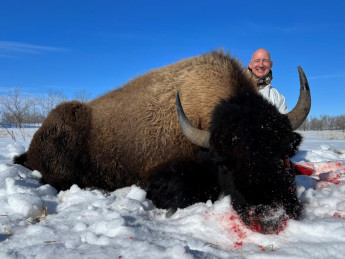 New customer Larry, from UT, showed up with multi-repeat customer Todd for a bison hunting adventure. We snuck up to this one and another when Larry put his M-1 Garand 30-06 to the test. Perfect shooting put this dandy MEAT BULL on the ground with only three shots. That's a lot of good eating right there.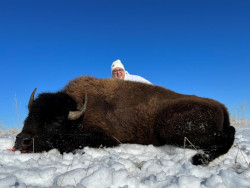 Terry's MEAT BULL
Some people show up as old friends, even before we meet. That's Terry's story. What a great guy. He showed up with a nice generous house-warming present as many hunters do. He put this MEAT BULL down with just a few excellent shots. When you hunt big country like we do at JRGS, you have to make good shots in the vitals to expect a clean kill. Terry delivered. I look forward to entertaining you again this summer prairie dog hunting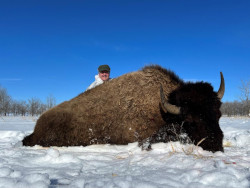 Todd has hunted many times with me:
This time it was for this great-eating MEAT BULL. We snuck to less than 150 yards. One clean shot with his 375 H&H, then we paid the insurance with one more to finish the job. It is always fun to have repeat customers show up. Great job Todd. Big thanks again for your business.
Jim River Guide Service provides The Ultimate Guided Experience.
As per usual, the hunt I advertised on the last email was sold within 48 hours. David bought it and is raring to go buffalo hunting. If you want a bison meat, hide and skull hunt this spring while your buddies are hunting turkeys, contact me soon before your chance is gone.
An American buffalo hunt is one of the most underrated hunts there is...if it is done right! That's because many outfits drive you out into a small enclosure and let you plink one out of a side-by-side or walk you into a feedlot to "pick the one you want". That is NOT the kind of experience you should expect if you are hunting big country with me. We occasionally have buffalo travel over 5 miles before we get the last shot, or sometimes even the first shot, into them. These hunts are fantastic and exciting. Ask anybody that's hunted with me.
"This has been so much more than I ever expected. I am so glad I found you. It turned out better than I ever thought it could be. Your extra effort has not gone unnoticed. Thanks again for a trip of a lifetime." Terry, MN
If you want a fantastic bison hunting experience, booking your hunt with JRGS is a no-brainer. Over 600 buffalo hunters can't be wrong. Like you, they wanted an experience they can be proud to tell their friends and family about. That's why they wouldn't trust anybody but me.
Bison are tough. A one-shot kill is ALWAYS the goal and seldom achieved due to hunting on such vast country. That ethically eliminates the option of an ear shot. Don't criticize the hunters for needing more than one or two bullets. It is typically NOT from poor shooting. Many of these guys have hunted their whole lives, for lots of different animals, and are stunned by how tough bison can be. Some of the hunters are first timers and they have the time of their lives. Showing hunters the toughness bison first-hand never gets old for me. Expect to shoot them several times to put them down for keeps. It is hard to describe just how tough they are until you've hunted them yourself on big country. That's the way we do it here at JRGS.
Something to think about:
If you hear an outfit brag about a lot of one-shot kills, they are shooting them in the ear in a small enclosure. It is that simple. You would NEVER go on an elk hunt and shoot that bull of a lifetime in the ear! Nor would you go on a brown bear hunt in Alaska and choose to shoot it in the ear! That is not reasonable at any level. It's too risky, period. That is a trick-shot that you would NEVER risk unless the animal was in a small enclosure or feedlot...or tied to a post.
If that's what you are looking for, a JRGS hunt isn't for you. If you think all buffalo hunts are the same, you should start calling my customers and ask them about their hunt! You will quickly find out we do it a whole different way. It is another reason why I have the guts to give you the names of ALL of my customers from the previous year and my competitors try to sweet talk you with some hand-chosen names of guys they know will tell you what you want to hear. Don't fall for the trickery, or you'll go along thinking all bison hunts are the same.
---
Contact Information
Please call or
e-mail
me with any questions or to get a list of ALL my clients from last year.
Jim River Guide Service
Willie Dvorak
432 Railway Avenue
Mellette, SD 57461

Text or phone: 605-228-8162
E-mail