Home | Deer Hunting | Pheasant Hunting | Buffalo/Bison Hunting | Predator Hunting

Antelope Hunting | Prairie Dog Hunting | Fishing | Pricing | References | Blog | Contact Us
South Dakota Hunting Blog
South Dakota Prairie Dog and Bison Hunting
---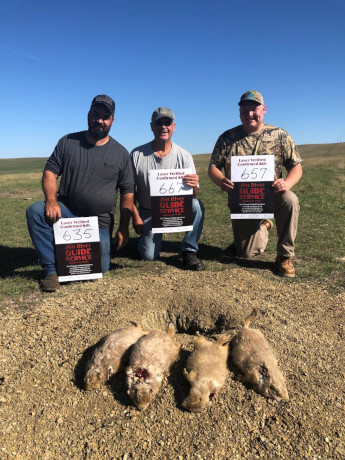 You are lucky to get Dusty, Dick and Craig in your hunting camp. Great shooting guys!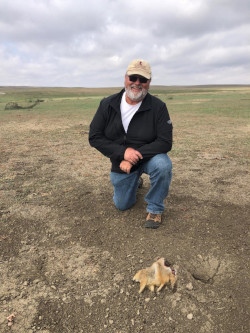 First time with JRGS...
Russell brought out his three pals for two fun-filled days hunting prairie dogs. (They are packing up the rifles back at the pickups.) Gary has to tough job of setting up the hunt. I book up every year and have all the logistics in order for a great time. But he has to get everybody's schedule to jive. I appreciate the leader of the group doing that work so I can stay in business. Thanks Russell!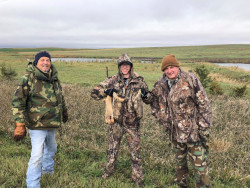 Gary set up this hunt...
Gary was the ramrod for his buddies Adam and Dave. It takes some planning to be sure you get in with the right outfit. If you are the leader of your group, trust your hunt with me PERSONALLY GUIDING YOU. Booking your hunt with JRGS will make you look great
Jim River Guide Service clients enjoy The Ultimate Guided Experience.
There is not reason to risk it anywhere else.
When you find an outfitter that you like, you are sometimes limited to how many times you can hunt with them because they only offer 1 or 2 quality hunts for different species. I offer incredible hunts for everything from prairie dogs to bison. There's a lot of reasons to keep coming back, especially when you enjoy the professionalism, hustle, logistics, trophy quality, person interaction, and performance of JRGS.
"Thank you Willie. The hunt and everything else around it far exceeded our expectations. If anyone is looking for a quality guided prairie dog hunt, don't look any further. Willie's Jim River Guide Service is the only outfitter you need to book your hunt." Russell, WI
My calendar is filling up for 2022 already. It seems I book up farther and farther in advance every year. There's a lot of reasons for that. If you want a worry free, low risk, low stress fantasticly fun prairie dog hunting experience, call me today to lock in some dates for next spring/summer/fall.
If you want to hunt the biggest, nastiest thing on the prairie, contact me today to get you reservation made to have a great experience hunting American Buffalo this fall/winter. I am the premier bison hunting destination in the world. Ask ANY of my clients. When you contact me, I will send you a list of ALL of my clients from last year so you can call as many as you need to get that warm and fuzzy feeling that you are about to book a hunt with the right guy. I'll show you a great time.
Call or e-mail me today to get your hunt scheduled. I will gladly speak on the phone to you, text or email.
Contact Information
---
Please call or e-mail me with any questions or to get a list of ALL my clients from last year.
Jim River Guide Service
Willie Dvorak
432 Railway Avenue
Mellette, SD 57461

Phone: 605-887-3561
E-mail: wdvorak@nvc.net