---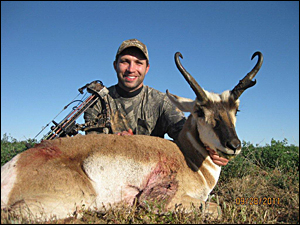 Jim River Guide Service ... THE best archery antelope hunting in South Dakota.
"When it comes to getting you close enough to shoot an antelope with your bow, JRGS is the best in the business." -- Justin from Missouri
*I do ALL of my own guiding
*I provide ALL of the names of hunters from the previous season
*call them and ask the tough questions
I hunt antelope on 60,000 acres of private land spread out over 200 miles in 5 distinctly different locations of South Dakota. Here's why:
1. To hunt the highest density of antelope regardless of year-to-year game fluctuations.

2. So my hunters can take the great animals from a give area, leaving the mediocre animals to mature and become huge for next season.

3. To avoid bad weather.

4. To provide the best outdoor experience to those who invest money and time, and travel half-way across the country to have a great time hunting the South Dakota prairies.

5. To ensure great success for EACH/ALL of my hunters.

6. To hunt animals that haven't been harassed by other hunters.
* Hunt the rut.
* I am an avid bowhunter and know how to get you close for a good shot. I also offer great hunts for the rifle or pistol shooter.
* I cater to small groups of less than 4 hunters. If there are 2 or more in your group, I can guarantee that you will be the only hunters in my camp.
* We will utilize ground blinds, spot and stalk, calling and decoy hunting techniques.
* I personally guide you.
I have had the honor of having Mike Fifer (CEO of Ruger Firearms), head gunsmiths for the NYPD, a Mayor of Tijuana, and several hunters from the FBI, Secret Service, CIA, LLRP's, Green Berets, Navy Seals, several Black Ops organizations and The Pentagon, Chicago Firefighters, Chicago Police a Top Gun Pilot, 9 Time World Champion MMA Fighter, professional baseball, hockey and football players, engineers from Smith and Wesson, Remington Firearms Reps and a lot of "regular Joe's" as clients in the past. I am proud of my operation. I will send you the complete client list of ALL of my clients from the previous season in lieu of a cherry-picked reference list like you get from other outfitters. I have found that by including all of last year's clients, inquirers know they are getting a complete representation of my clients and not just names and numbers of the happy clients that have been hand-picked like on a traditional "reference list". I would encourage you to phone many of these guys and ask them any questions that you feel are important in making your decision to hunt with me. If you are satisfied with their answers, give me a call and we will go ahead with setting up your hunt.
When researching a hunt, you should ask to speak to all of the clients who hunted the same time you are considering hunting the previous year. It is foolish to consider booking a hunt with an outfitter before you speak with hunters who have hunted the same place during the previous season. It is important to know ahead of time what you are getting for your money. I am proud of the attention I give my customers before, during and after the hunt. Most importantly, don't booking a hunt with anyone who is not willing to give you the names and numbers of all of their customers from the previous season.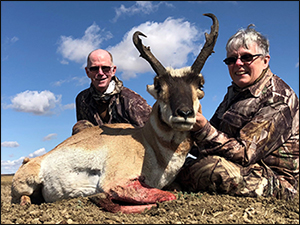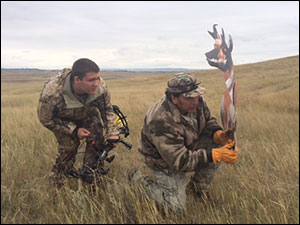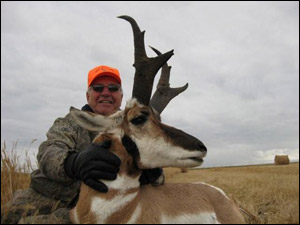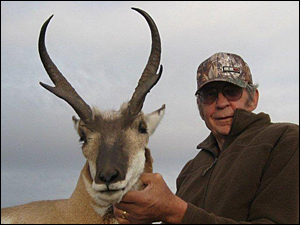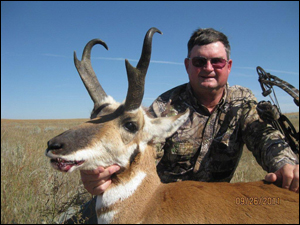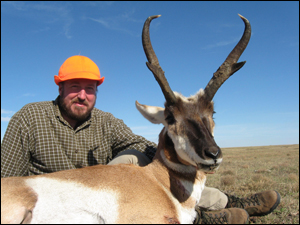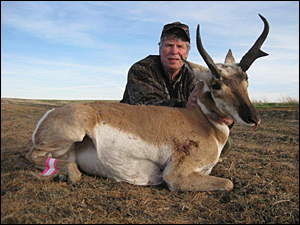 14" Antelope

13" Antelope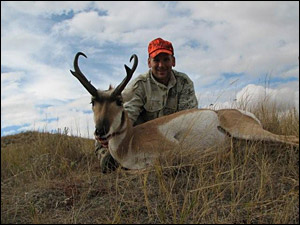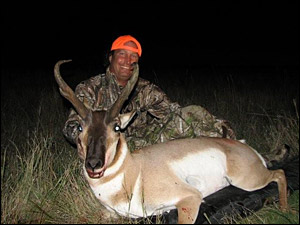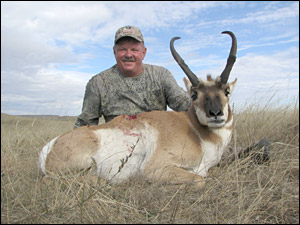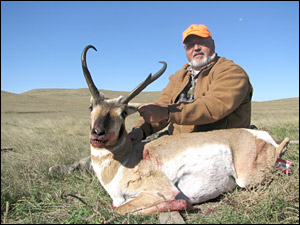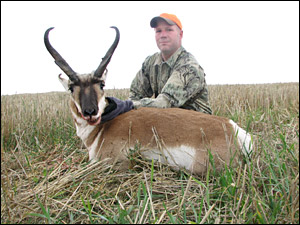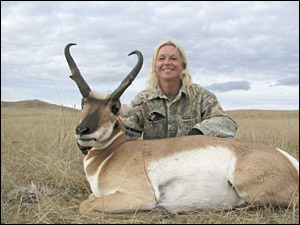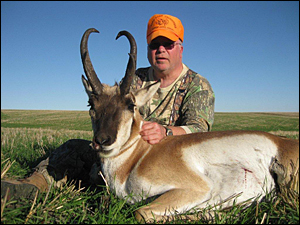 15" Antelope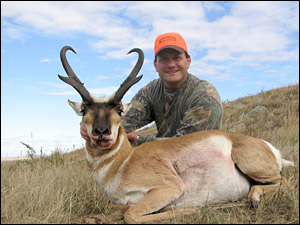 Archery antelope hunters enjoy great success
---
Antelope Archery/Rifle Hunt Pricing
A 50% non-refundable deposit will reserve your hunt.

All Inclusive: $4,800
---
Contact Information
Please text or phone: 605-228-8162 or e-mail me with any questions or to get a list of ALL my clients from last year.
Jim River Guide Service
Willie Dvorak
432 Railway Avenue
Mellette, SD 57461

Text or phone: 605-228-8162
E-mail