South Dakota Buffalo/Bison Hunting Guide and Outfitter
---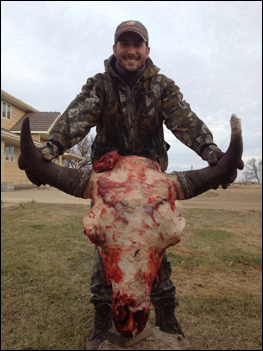 *I do ALL of my own guiding
*I provide ALL of the names of hunters from the previous season
*call them and ask the tough questions
The most thrilling hunts for American Bison are with Willie at Jim River Guide Service.
No trophy room is complete without an American Bison head on the wall. And bison produce some of the best and most healthy table fair of any huntable game.
If your goal is a fantastic head on the wall or a freezer full of awesome meat, you can be assured the experience you get hunting at Jim River Guide Service will be a lifetime memory that you will be proud of. It is an adrenaline filled experience.
American Bison represent everything awesome about American strength and toughness. Nothing says Americana like a big old buffalo head on the wall.
When booking a bison hunt, it is important to know that all TROPHY BULLS, MEAT BULLS or COW BUFFALO are not the same throughout the industry. An outfitter can easily save hundreds of dollars by sending you home with a smaller animal or lackluster experience.
I hunt bison that are scared to death of humans. It is thrilling. SUPER TROPHY BUFFALO BULLS are in a class by themselves. Most outfitters don't/can't handle buffalo of this size and disposition.
Here's a link to my Facebook page…. You will find ALL of the bison my hunters have taken in the past years and they will clearly be labeled as a MEAT BULL, TROPHY BULL, SUPER TROPHY BULL or BUFFALO COW. I not only provide the names of ALL of my clients from last season. I also provide hunters the opportunity to look at pictures of ALL of the buffalo my hunters have taken and compare them to everybody else's outfits. That's a big deal. You should ask my competition to let you see ALL of the bison they've taken and not just a few pics of their "best" buffalo. There is a reason if they won't do it…and it's not a good one. I put my money where my mouth is. Nobody provides a better hunting experience than Jim River Guide Service.
When the time comes that you want to put that American Bison head on your wall or fill your freezer, take pride that you hunted bison as it should be at Jim River Guide Service. You will be proud to tell the story.
I provide the name of ALL of my clients because they have a fantastic time when they hunt bison here. When you get the list, start calling names until you are confident I have a level of honesty and integrity that you will appreciate and that your experience hunting bison here will be awesome. Being proud of the story you can tell your friends and family is important. It is even more important to be able to look yourself in the mirror and know you have an incredible experience most people will never enjoy.
Contact me today for all of the details and a list of ALL of the hunters who hunted with me last year. Get ready for an exhilarating experience.
There are several questions you need to ask a prospective outfitter about your buffalo hunt to insure you are not disappointed with your experience. Here is a list of questions I feel you should ask:
Are the buffalo behind a high fence?
Please explain the difference between your TROPHY BULLS and your SUPER TROPHY BULLS.
Do I keep the meat, hide, skull, etc.?
Do you have a video I can see?
What is the cost and what services are included?
Can I have a list of ALL of your clients from last season?
Can I see pics of ALL of the bison your hunters took last year so I can compare your animals to others?
Once you compare the answers, you can make an informed decision as to which outfitter best fits your expectations.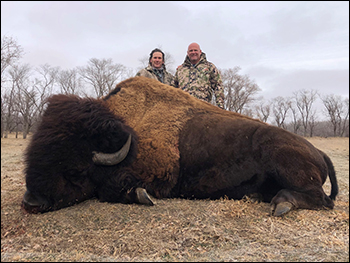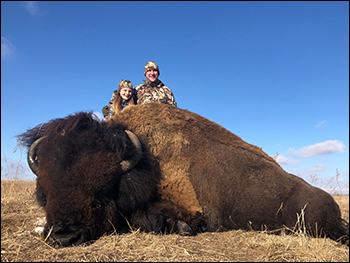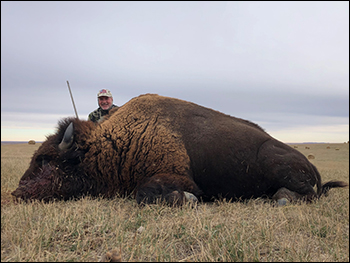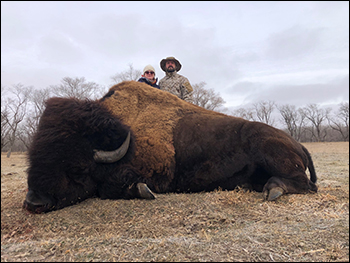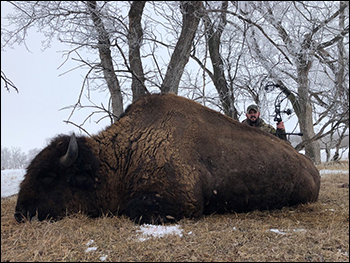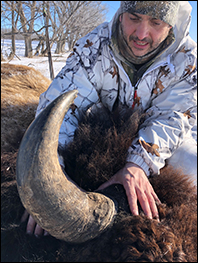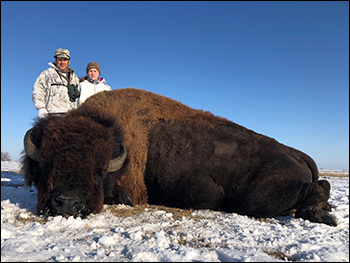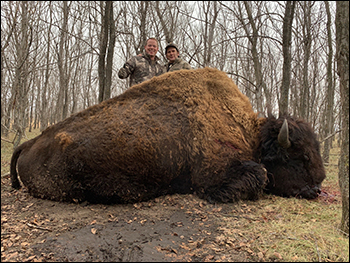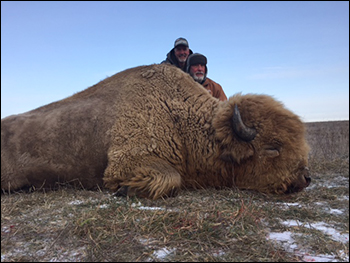 White Buffalo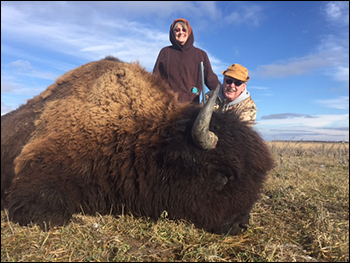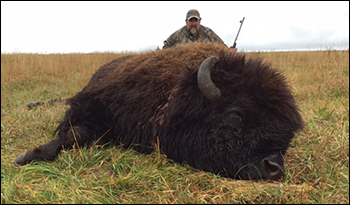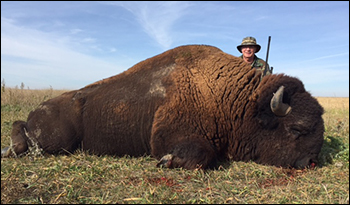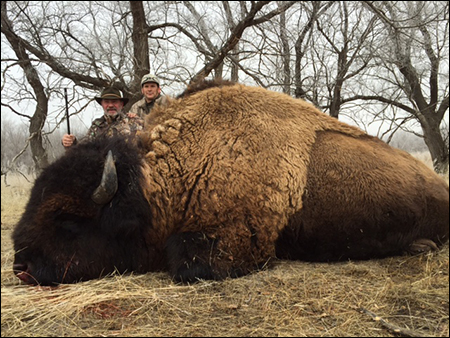 Polish hunter Zenon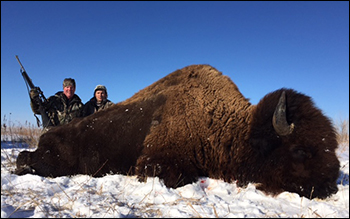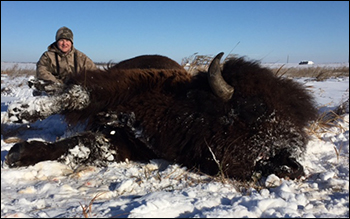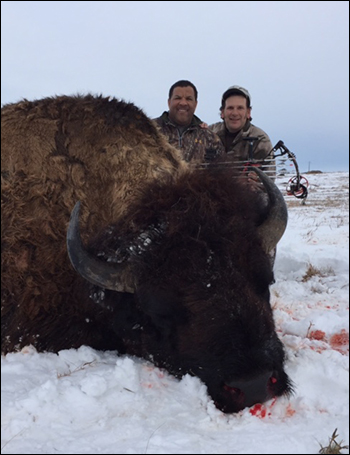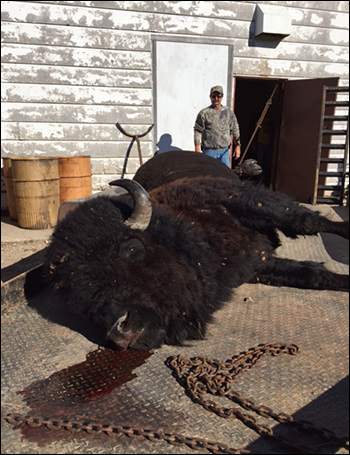 Super Trophy Black Bison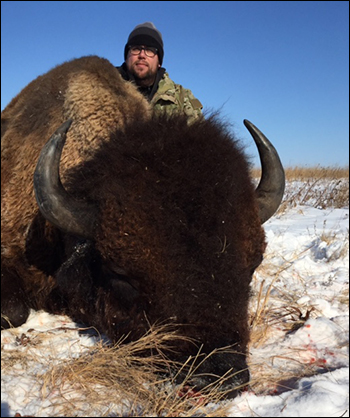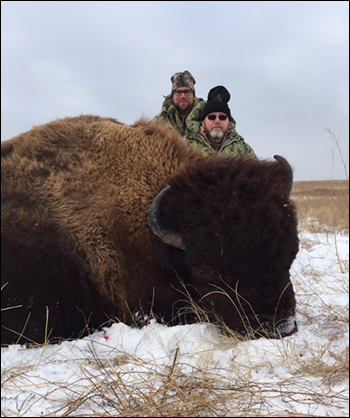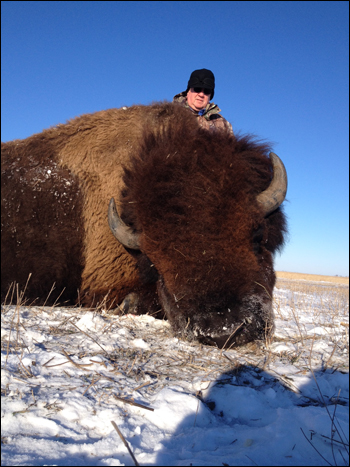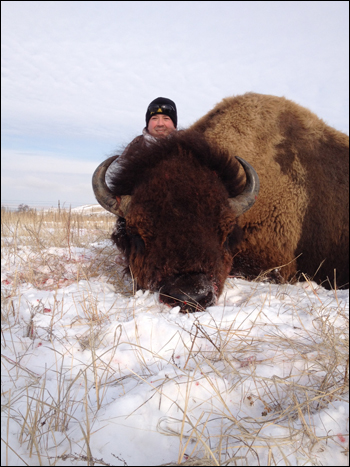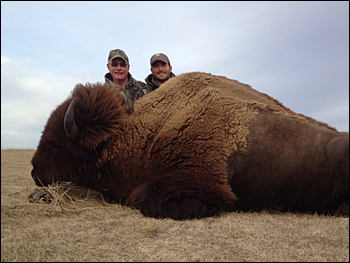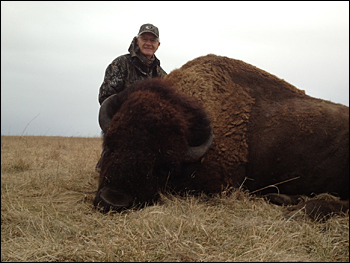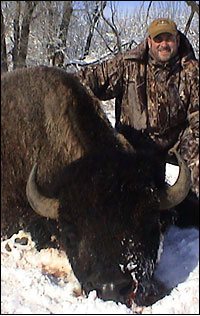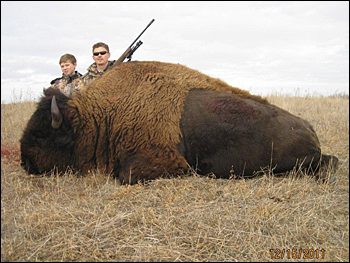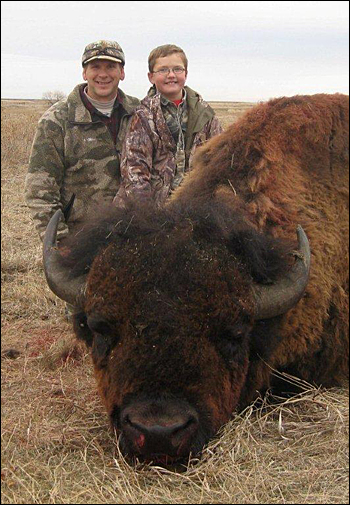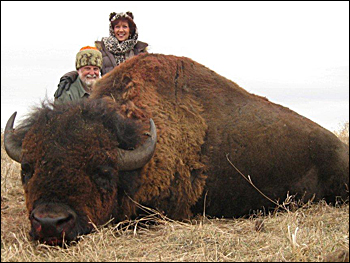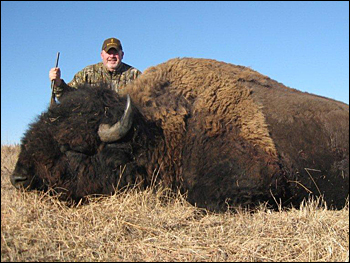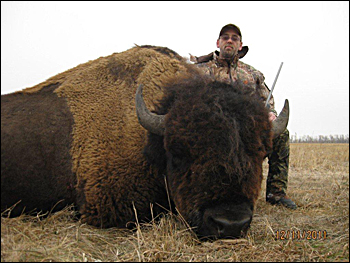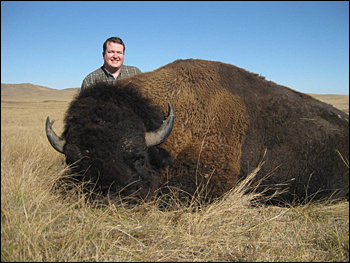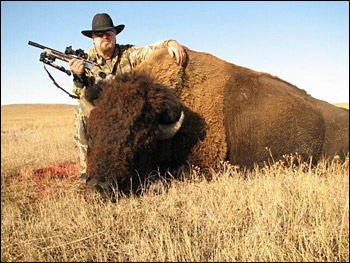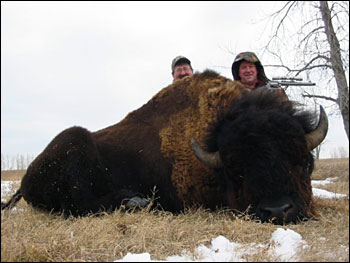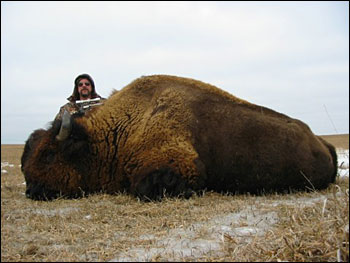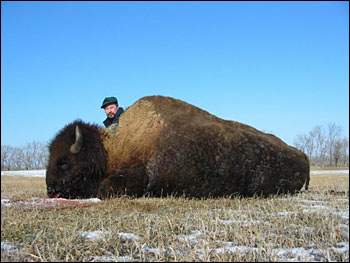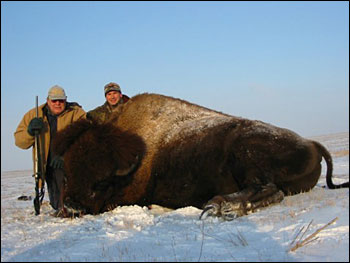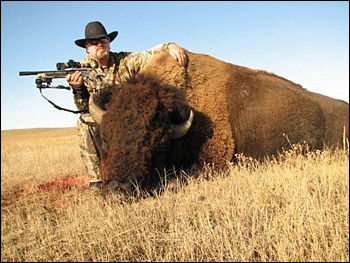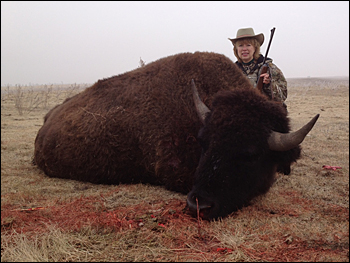 Jim River Meat Bull
When researching a hunt, you should ask to speak with ALL of the clients who hunted the same time you are considering hunting the previous year. It is foolish to consider booking a hunt with an outfitter before you speak with hunters who have hunted the same time and place during the previous season. It is important to know ahead of time what you are getting for your money. About 30% of my current business is repeat business and each year repeat business grows. This is because I show my clients a great time. I am proud of the attention I give each client before, during, and after the hunt. Most importantly, DON'T CONSIDER BOOKING A HUNT WITH ANYONE THAT IS NOT WILLING TO GIVE YOU PHONE NUMBERS AND/OR EMAIL ADDRESSES OF ALL OF THEIR CLIENTS FROM THE PREVIOUS YEAR.
Give us a chance to fulfill your dream of taking an American Bison by texting or calling us at 605-228-8162 or e-mail us through this website.
Buffalo Hunt Pricing
A 50% non-refundable deposit will reserve your hunt.




All Inclusive Super Trophy Bull Hunt ... $7,800




All Inclusive Trophy Bull Hunt ... $6,400




Meat Bulls ... $5,400




Cows ... $3,600
---
Contact Information
Please text or phone me at
605-228-8162
or
e-mail
me with any questions or to get a list of ALL my clients from last year.
Jim River Guide Service
Willie Dvorak
432 Railway Avenue
Mellette, SD 57461

Text or phone: 605-228-8162
E-mail