South Dakota Prairie Dog Hunting Guide and Outfitter
Book Your South Dakota Prairie Dog Hunting Trip Now!
e-mail, text or phone me at: 605-228-8162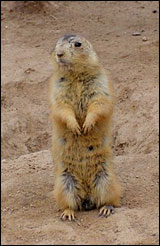 Jim River Guide Service is the premier prairie dog hunting destination in the world hands down.
I personally guide all hunts. My credentials:
-I've guided over 1,600 prairie dog hunters
-I have over 1,600 days of prairie dog hunting experience. Nobody in the planet has more.
-I've watched over 2 million rounds go down range at prairie dogs.
-I have taught many people, who have literally never fired a weapon, how to shoot prairie dogs between 500-600 yards with only one hour of instruction!
-If you're coachable, you'll be shooting more prairie dogs at longer ranges that you or any of your friends back home ever thought possible. "If you think you can't do something you are probably right."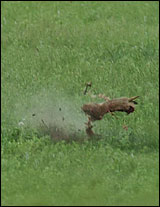 Prairie dog hunting is one of the most fun things you can do with a rifle. It's challenging and rewarding. It's the perfect thing to do if you want to enjoy the South Dakota outdoors and don't want to be limited to only a few shots a day like with pheasant hunting. You should expect to shoot until you're eyes quit focusing and your shoulder aches.
Do not be scared of the ranges. Many people have never shot anything past 100 yards before coming to hunt prairie dogs with me. That is normal. We have so many prairie dogs on the ground I lease that you would think I was crazy if I tried to explain it. It is a target rich environment. Expect a challenge and a lot of fun. Know that your guide knows the myths and the truths of prairie dog hunting and will give you the opportunity to have a fabulous time. Be ready for fun.
Call, text or email me to get a list of ALL of the guys I personally guided last year. I send out a list of ALL of my clients because if you have ever applied for a job, you know what names go on a "reference list". It is risky giving out the names of ALL of my customers but it shows my excellent integrity.
I sell out every year. I treat everybody the same. So book early. Don't worry about me being tempted to over-promising to get your business. Because I book up every year with normal guys wanting an awesome hunt, be comfortable knowing I have zero motivation to "trick" anybody into doing business with me by exaggerating what I can do. I deliver on my promises in spades. I give you the opportunity to check me out by giving you the names of ALL of my part clients. I am proud of that.
Contact me and be ready for a great trip. If you are a single shooter, I'll put you with a few other guys to have fun. If you are the leader of a group, count on me to make you look awesome. Your pals will thank you for trusting me to facilitate a fantastic prairie dog hunting experience. You will see why so many people enjoy the sport.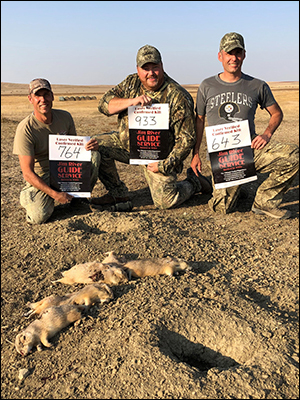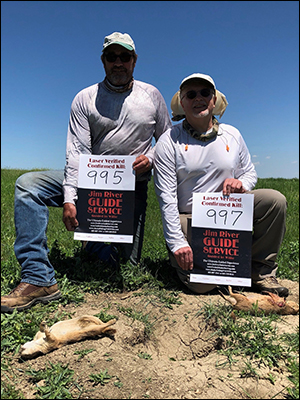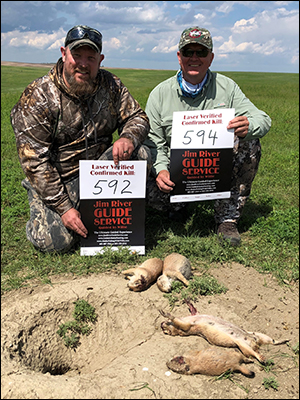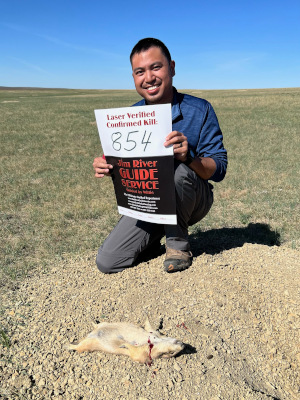 Oliver has never hunted anything before this day. "Give me an hour with somebody who's coachsble and they'll be shooting prairie dogs at distances they never thought were possible."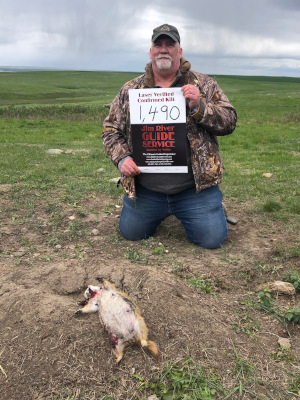 Corey is the current JRGS Record holder.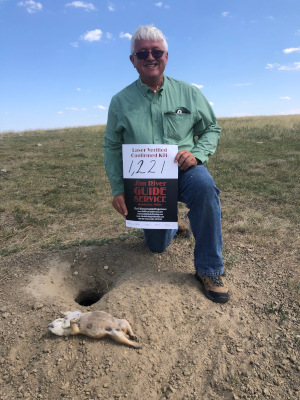 Cassie's 738 "longest shot for a girl" with her dad Brian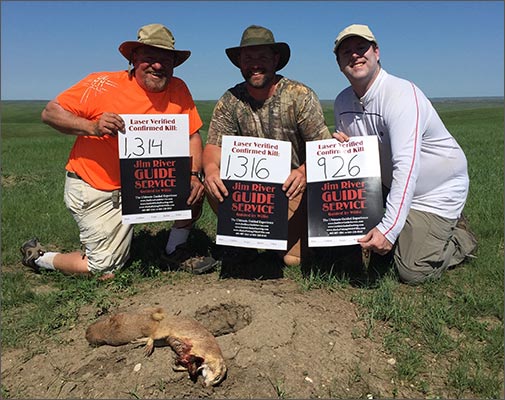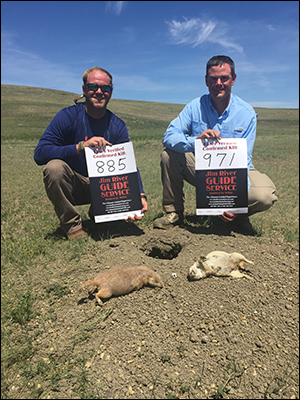 Steve and Todd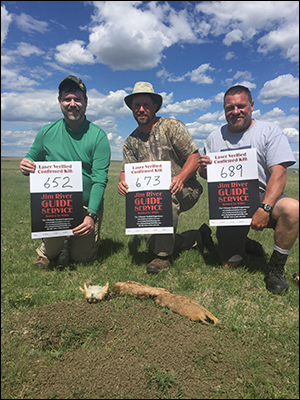 Adam, Doug & Jason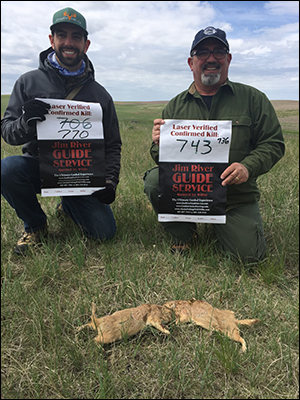 Greg & Adam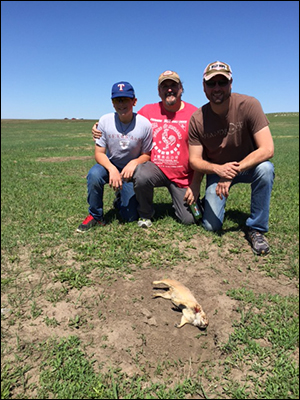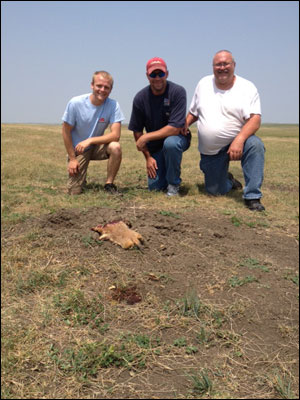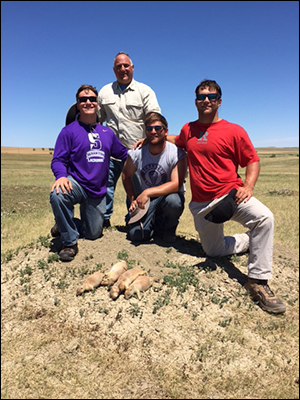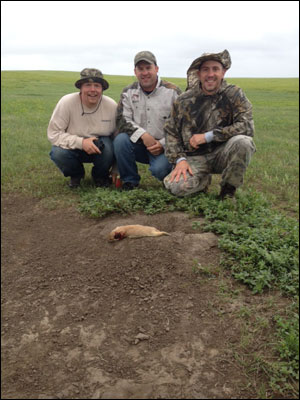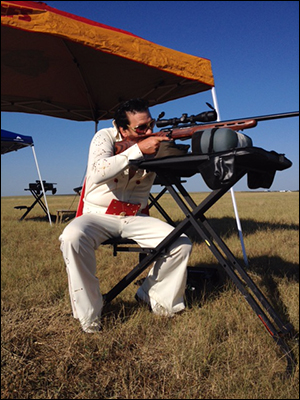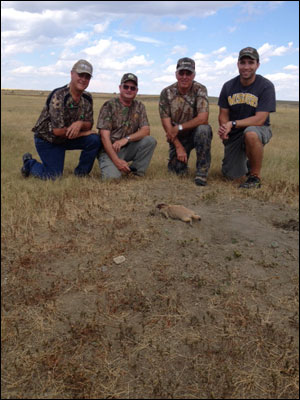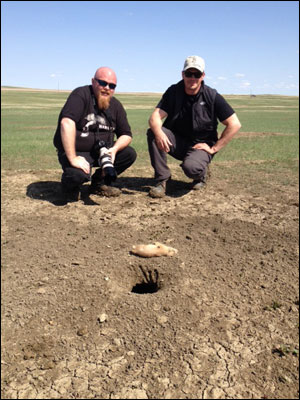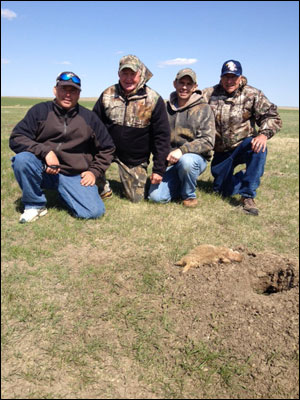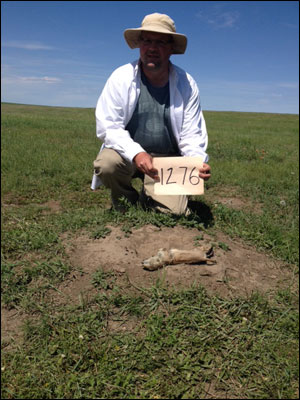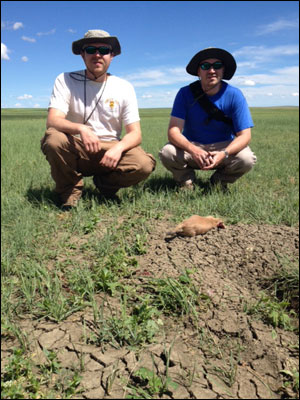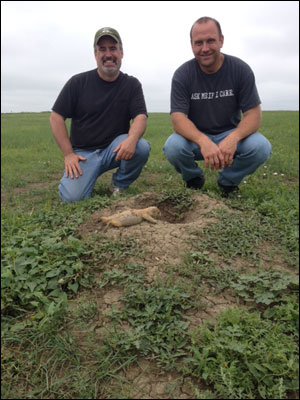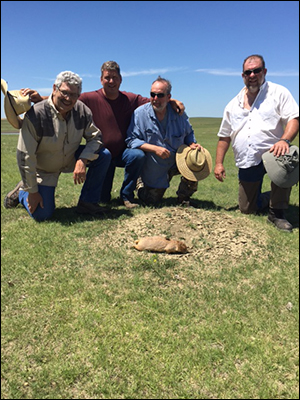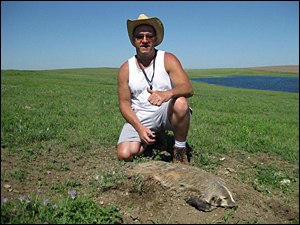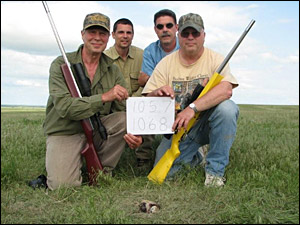 Chuck Loebsack and Roger Gower (front) Jamie Gower and Larry Gower (back)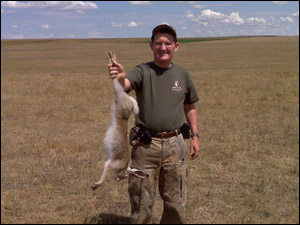 Mike Fifer, CEO Ruger Firearms, took this rabbit at 687 yards while prairie dog hunting. He was shooting a Ruger 77 chambered in Ruger .204!
Unless other arrangements are made, I will be your hunting guide. In a perfect world, an employee would care about the business as much as the owner. Unfortunately, we don't live in a perfect world. I do all of my own guiding unless other arrangements are made. It is comforting for you to know that the guy who is cashing your check (me) is the same guy who will accompany you in the field (me). I put my reputation on the line every time I cash a check. If you have ever paid a lot of money for a guided hunt only to be sent out with a sub-par(drunk/lazy/brother-in-law that just lost his job/etc) guide, you will know why this is so important. If you haven't ever experienced being assigned to a poor guide, you will probably take your chances until you do.....then you will insist on hunting with the owner.
When researching a hunt, you should ask to speak with ALL of the clients who hunted the same time you are considering hunting the previous year. It is foolish to consider booking a hunt with an outfitter before you speak with hunters who have hunted the same time and place during the previous season. It is important to know ahead of time what you are getting for your money. About 60% of my current business is repeat business and each year repeat business grows. This is because I show my clients a great time. I am proud of the attention I give each client before, during, and after the hunt. Most importantly, DON'T CONSIDER BOOKING A HUNT WITH ANYONE THAT IS NOT WILLING TO GIVE YOU PHONE NUMBERS AND/OR EMAIL ADDRESSES OF ALL OF THEIR CLIENTS FROM THE PREVIOUS YEAR.
---
A 50% non-refundable deposit will reserve your hunt.
---
Contact Information
Please text or phone me at 605-228-8162 or e-mail me with any questions or to get a list of ALL my clients from last year.
Jim River Guide Service
Willie Dvorak
432 Railway Avenue
Mellette, SD 57461

Text or phone: 605-228-8162
E-mail: wdvorak@nvc.net